Perisher Accommodation 2020
Altitude the lodge is a high quality commercial  family lodge .Located in the Smiigins end of Perisher. There are 9 guest rooms downstairs and 11 upstairs all located in the north wing of the building. Rooms can accommodate between 2 and 5 guests.The lodge is 400 meters to the lifts.
Rate includes a hot "Skiers" breakfast and 3-4 course dinner each day (2 course dinner for Children, separate sitting)
13 PLUM PINE ROAD, SMIGGIN HOLES NEW SOUTH WALES 2624
Sauna  ,Cocktail Bar , Wireless Internet ,common areas ,Dinning Room ,onsite parking (very rare)
Rates start from $100 per night through to $370 ,children from $60 to 180 per night
Altitude The Lodge @ Smiggins – Save 20%!
Save 20% ALL SEASON
excluding 28/6/20-18/7/20.
---
Up To 20% OFF All Rates All Season*!
Available 5 June – 25 September 2020 (excluding 28 Jun – 18 Jul, 2020)
Aurora Lodge located in the heart of Perisher Ski Resort provides a truly affordable and relaxing snow holiday. Enjoy the ease of a quick ski or snowboard to the lifts with a short walk back from the snowfields. Who needs a snow report when you can just look out your window and see the snow conditions yourself.With the lifts just 350 meters away
Meals include hot breakfast ,5pm nibles and a three course evening meal
27 WHEATLEY RD, PERISHER VALLEY NSW 2624, AUSTRALIA
Sauna  ,Cocktail Bar , Wireless Internet ,common areas ,Dinning Room ,laundry facilities & drying room ,games room ,open fire
Rooms start from $172 per person thorough to peak season at $220 per night.Children (5-14) get 20% discount
Barrakee Lodge is hidden on the quite side of Perisher, on the South side of Perisher, located just 50m from the North Perisher T Bar.This popular and comfortable lodge offers friendly service and great food. With a great informal atmosphere and easy access to all areas of Perisher Ski Resort, Barrakee Lodge is a great option for any group of travellers.
Meals are included with your bookings,these are a hard breakfast and Dinner
159 PERISHER CREEK ROAD, PERISHER VALLEY NEW SOUTH WALES 2624
Sauna
Squash Court
Self-service laundry
Drying rooms
Tea and coffee making facilities
TV/video/DVD lounge
Wireless Internet access
3 nights 10% discount
5 nights 15% discount
7 nights 20 % discount
Family Special Kids stay free
Have yets to be announced for 2020.
Barina is a ski club open to guests set in a family freindly enviorment.This afforadable lodge is located just 500 meters from lifts.
Our large comfortable lounge and dining areas give you space to be on your own to immerse yourself in a favourite book, or to just contemplate the beauty of the eucalypts outside.
Or you can enjoy a boardgame with the family.
Chatting around the evening fire with a glass of wine is popular.
*Bookings include a hardy breakfast and 3 course dinner.*
Complementary oversnow transport on arrival, departure and at the end of each day's skiing.
Candle Heath Rd, Kosciuszko National Park, Perisher Valley, New South Wales 2624, Australia
Lounge ,Drying Room ,Fire Place
Adults from $84 per night through to peak season at $265.Children at $32 per night through to peak season at $188
| | | |
| --- | --- | --- |
| Adult | $84 | $84 |
| Child 13-17 | $84 | $84 |
| Child 6-12 | $32 | $32 |
| Child 2-5 | $32 | $31 |
| Child under 2 | $32 | $32 |
For June
City Tattersalls Club Boonoona Ski Lodge is renowned for its personal service, exquisite cuisine and superb on-snow location in the heart of Perisher Valley. All packages include daily breakfast, lunch and 3 course dinner, free over snow transport on your arrival and departure
19 BILLY BUTTON PLACE, PERISHER VALLEY NSW, AUSTRALIA
Ski-Out Location, Daily Pick Up Services back to Lodge from 4.30pm –
5.00pm, 14 Ensuite Rooms, Licensed Restaurant and Bar. Sauna, Steam
Room and Spa, Relaxed Reading Room, Pool Table, Guest Lounge Area,
TV, DVD and Stereo System, Over-snow Transport, Drying Room, Central
Heating, Ski Storage, Wireless Internet Access, 24-Hour Tea and Coffee
Making Facilities, Linen and Towels Provided.
Minimum two nights stay from $375 twin share through to peak season stay at $600 per night.
Free pick up and drop off services from the Perisher Skitube Terminal on arrival and departure days between 9am and 6pm
Free daily pick up services back to the lodge from 4:30pm – 5:00pm
Chalet Sonnenhof is a quaint lodge offering great views over all of Perisher Valley. Family owned and operated, the Chalet is well known for friendly service, a relaxing atmosphere and a great ski-in, ski-out location.
Meals included are dinner, and breakfast.
over-snow transport on arrival and departure (Fri. & Sun.) Skier pickup every afternoon from quad chair  4.30 – 5pm.
 29 WHEATLEY ROAD, PERISHER VALLEY NEW SOUTH WALES 2624
sauna and spa
Bar
Drying Room
Billiards
In house restaurant
Wireless internet
Adults from $195 per night twin share through to peak seaon prices of $305.00
Phone direct for discount (02) 64575256
Corroboree Ski lodge offers family friendly accommodation with warm comfortable rooms. A easy 150 meter walk to ski lifts & ski tube. Enjoy digital TV and free Wi-Fi. Delicious cooked breakfasts and three course dinners are provided daily as part of your ski package. There is a licenced bar with cosy fireplace, a perfect place to relax after a days skiing in the company of your hosts Bob Tait and Anna Tait. A disabled room and facilities are available.
TripAdvisor Certificates of Excellence in 2015, 2016, 2017 and 2018.
4 WHEATLEY RD, PERISHER VALLEY NSW 2624
Ski-in/Ski-out
Comfortable and very spacious rooms, each with their own private bathrooms
Ski Storage room
Boot Drying/Warming Rack specially imported from Canada.
Free WiFi
Biggest Guest lounge on the mountain with:

Large TV
Free DVD Library with over 500 titles available
Huge Games table with cards, puzzles and many board games readily available

3 different Lounge/conversation areas
Balcony with views of the Perisher Front Valley
In-House bar with:

Pool Table
Dart Board
3 x Large TV (Satellite digital Free-to-air and Foxtel)
Extensive Wine List
Comprehensive Whisky List

Great Espresso Coffee
Quality Linen and Towels
Guest laundry service is also available
24/7 Front desk
Daily Room Service
Rooms start from $350 per night for two,minimum stay 2 nights.
This offer has expired due to Coronavirus.
5 NIGHTS IN A LODGE ROOM BREAKFAST & DINNER DAILY OVERSNOW TRANSFERS ON ARRIVAL & DEPARTURE KIDS STAY FREE WITH 2 ADULTS 5 DAY PERISHER LIFT TICKET $1328 per person
Cowra Ski Lodge is ideally situated in Perisher Valley in the heart of the snow country.
Located close to ski lifts and amenities, it provides a warm friendly environment for its members and non-members alike. All are welcome.
A full three-course dinner is provided in the dining room each night, prepared by our own super master cook Ben.
(Children under the age of 3 are not catered for however parents can prepare their meals)
PERISHER VALLEY NSW 2624 AUSTRALIA
A large lounge room downstairs with a TV and DVD player
Loung room
Fire Place
communal kitchen
 
2 night from $370 to peak season $400
Eiger Chalet is a small, family owned and operated, boutique style German/Austrian influenced Ski Chalet, right in the heart of Perisher Valley.Our packages include a 2 course dinner and a hot breakfast, daily – both served in our White Spider Restaurant.
WHEATLEY ROAD, PERISHER VALLEY NSW, AUSTRALIA
GUEST LOUNGE
Cocktail Bar
Restaurant
MINI GYM, SPA AND SAUNA
Drying rooms,
laundry,
ski and board racks,
2 Nights
Incl:
2 Breakfasts
2 Dinners
3 Nights
Incl:
3 Breakfasts
3 Dinners
5 Nights
Incl:
5 Breakfasts
5 Dinners
7 Nights
Incl:
7 Breakfasts
7 Dinners
Valley Standard Single Room
754
1121
1863
2333
Valley Standard Twin/Double Room
(2 Adults)
688
1028
1655
2228
Mountain View Double Room
(2 Adults)
718
1089
1719
2292
Mountain View Queen Room
(2 Adults)
882
1220
1881
2504
Mountain View Sun Suite
(2 Adults)
1035
1486
2319
3130
Mountain View Room
(3 Adults)
633
992
1516
2031
Mountain View Triple Room
(3 Adults)
741
1065
1615
2156
Mountain View Sun Suite
(3 Adults)
778
1097
1724
2336
Child – sharing with 2 adults
(5-14 yrs)
386
518
879
1138
Infant – sharing with 2 adults
(2-4 yrs)
285
335
523
701
Infant – sharing with 2 adults
(0-1 yrs)
158
173
254
335
Fjellheim Lodge is a private ski lodge located in Perisher Valley ski resort in the New South Wales' Kosciuszko National Park.  It is located opposite the Pretty Valley chair lift and is a short down-hill ski to the Telemark T-Bar.  Guests enjoy a true on-piste lifestyle with ski runs from  the doorstep and easy access to the shops, restaurants and bars of Perisher Village. Inside, the lodge boasts six double bedrooms, a large family-friendly kitchen, comfortable communal areas and many other features that will make your stay very comfortable.
main living
kitchen,
dining area,
verandah
Laundry
 Week
 Night
 Week bookings open
 Night bookings open
Member
 $560
 $115
15th Jan to 31st Jan
 Book from 1st Mar
Non-member
 $865
 $190
15th Feb to 28th Feb
 Book from 1st Mar
Heidi's Chalet Apartments, Perisher
Heidi's 2 & 3 bedroom self contained apartments sets a new standard of luxury in snowfield accommodation and boasts the perfect position – in Smiggins Perisher. On snow accommodation directly opposite the chairlift and central to all services and facilities. A great place for a special getaway.
Heidi's we offer FREE overnight guest parking (limited to 2 cars per apartment) to ensure you have a hassle free start to your holiday
24 Link Rd, Smiggin Holes NSW 2624
Apartment Rates (Value Season)
| NIGHTS | 4 SHARE | EXTRA ADULT | EXTRA CHILD |
| --- | --- | --- | --- |
| 2 | 1240 | 264 | 158 |
| 3 | 1860 | 395 | 238 |
| 5 | 2790 | 620 | 374 |
| 7 | 3689 | 868 | 493 |
03 Jun – 18 Jun 
11 Sep – 05 Oct
MBAC Alpine Club in Smiggin Holes has operated since 1966 and provides lodge style accommodation for Members and their Guests.
It has a large communal lounge  / dining area and a well-appointed kitchen. It also has a bar where you can chat and enjoy a few beers with other guests after a hard day in the mountains.
PLUM PINE RD, SMIGGINS , KOSCIUSZKO NATIONAL PARK NSW, AUSTRALIA
Guest Rates – Winter 2020
Period
Dates
Type
Weekend
Mon – Fri
Part Week Day Rate
Non-Peak
Mon 29 June to Sun 5 July     Mon 27 July to Fri 31 July and Mon 31 Aug to Sun 27 Sept
Adult
$380
$820
$175
 
 
Child
$265
$590
$125
Peak
Sun 5 July to Sun 26 July Fri 31 July to Sun 30 Aug 
Adult
$480
$1080
$230
 
 
Child
$320
$730
$160
For a winter escape or a snow adventure, Mounties Group's coolest holiday destination, Kooloora Lodge is located in Perisher Valley. Kooloora Lodge is ultra modern and conveniently located just 800 metres from the main chair lifts. Perfect for serious skiers, snowboarders and families looking for upmarket lodge style accommodation at an exceptional price.
DINNER: Adults – A 3 course set menu dinner is served at 6.30pm each night. Menu changes daily. Child rates include a 2 course dinner from the kids menu. Children are served at 6pm.
BREAKFAST: A hearty breakfast is included daily
KOOLOORA,KOSCIUSKO ROAD, PERISHER VALLEY ,NEW SOUTH WALES 2624
 Dining Room
 Tea/coffee facilities
 Luggage Storage
 Drying Room
 Ski storage
 TV with Austar, DVD player and Wii
 Guest lounge with fireplace
 Guest laundry facilities
 Recently renovated rooms
Starting from
2 Nights
5 Nights
7 Nights
Adult
420
1050
1470
Child (2 – 13 yrs)
260
650
910
KOOLOORA LODGE – SAVE 20% – EARLY BIRD DEAL
Valid: all season for all stays, minimum 2 nights, 5 Jun – 4 Oct 2020
Save 20% when you book by 31 Jan 2020.
Includes daily breakfast & 3 course dinner.
Book Direct https://mountiesgroup.com.au/resorts/kooloora
The tourist park offers a variety of accommodation from 3 Bedroom Spa Heritage Chalets ,2 Bedroom Heritage Chalet ,Cedar Cabins Powered Sites and Un-powered Camping Sites , right in the heart of the famous Kosciuszko National Park.Kosciuszko Tourist Park is just a short 14 klm drive, on sealed and safe roads to Perisher Valley's 47 ski lifts. You can be closer to the slopes without the high cost of on snow accommodation and just a 15 minute drive down the mountain are the shops, supermarket, restaurants, clubs and movie theatre at Jindabyne.
1400 Kosciuszko Road
Jindabyne 2627,Australia
 Drying Room available for all guests 
Camp Kitchen with a guests lounge and log-fire for your comfort. (Firewood available)
We have a Large camp kitchen featuring Fridges, Hot and cold water, Ovens, Stove tops, BBQ, Tables & Chairs, Crockery, Cutlery, Jettle / Toaster / Microwave and a Large Communal Fireplace and 8 Balll Table.
We also feature Two Amenaites Blocks, Guest Laundry with washers and dryers, Play ground, Dump Point for Caravans, Premium Spa Chalets, Chalets, Cabins, Caravan Sites, Powered drive through sites, Powered tent sites, Unpowered tent sites and an On Site Caravan. Reception has a kiosk with the basic essentials and the Park has a Drying Room* for those all important ski equipment drying purposes.
All our Cabins and Caravan Sites have their own fire pit to add that warming touch to your stay.
Starting from
Rates From $1320 AUD
The Deluxe Spa Chalets sleep up to eight people and have three bedrooms and two bathrooms. They are fully self-contained with kitchen, dining and lounge room, gas heating, colour TV, outside deck and gas barbecue. All linen is provided in Deluxe Chalets.
Blankets & doonas

Colour TV

Deck & Outdoor furniture

Electric heating Double Bed

Fully Self contained

Kitchen / dining area

Linen Provided

Lounge area

Out door Fire pit*

Personal Drying Cupboard, DVD

Personal gas BBQ

Sleeps upto 8 people

Three Bedrooms

Two bathrooms
Powered Caravan Site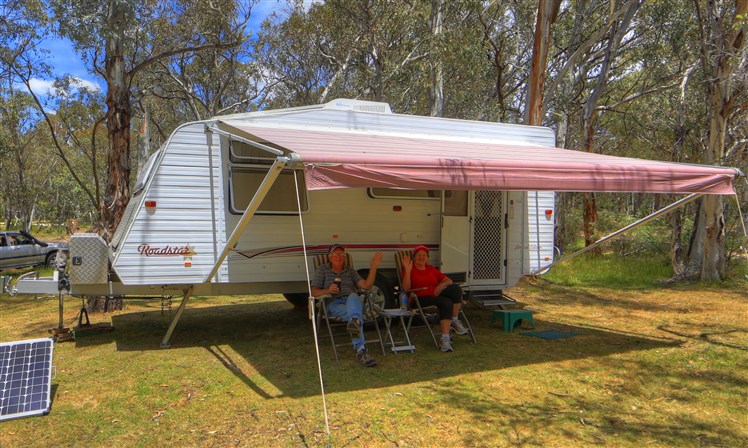 Rates From $260 AUD
For that bush camping experience, sharing the natural environment with our friendly wildlife, you have a choice of 15 large sites. Each site is drive through with safe drinking water, sullage sinks and a personal campfire/barbeque. To ensure your privacy all of these sites are spread apart from each other and set amongst the snowgums for shelter and shade. Our new features include a large guests kitchen and lounge with a cozy wood fire*. This facility also has two stoves with ovens, microwave oven, sink, fridge, dining furniture, lounge chairs and free gas barbeque. Camp Fires* – There is nothing quite like a Snowy Mountains camp fire to make your holiday more memorable. Enjoying the clear mountain air with new or old friends around a crackling camp fire with a hot coffee or a small port.
Camp fires*

Camp Kitchen with 55″ Flat TV

Children's playground

Dump Point

Fridge

Gas cook-top

Hot Showers

Kiosk

laundry with coin-op washer and driers

Microwave oven

Two conveniently located amenity blocks
Lodge 21 is boutique accommodation in Smiggins Perisher. Walk out the front door… and immediately across the car park is the ticket office, ski shop, rental shop, hotel and ski lifts. It simply doesn't get better than this.
Lodge 21 offers comfortable budget accommodation.
 Guests enjoy 3-course hot dinners and breakfasts fit for a king.
LINK ROAD PERISHER VALLEY NSW 2624
Great location 100m from lifts
TV lounge with cable TV and DVD player
Open fireplace
Tea and coffee facilities
Ski locker
Drying room
Rates start from $170 2/3 bedroom share through to $275 per night.
FOR SPECIAL PROMOTIONAL DEALS…
Phone Macgreggor on 0403 617 661
Marritz Hotel is one of the classic "European" ski hotels in Perisher Valley.  You'll find fireplaces to daydream by, Perisher's only heated pool, a relaxing sauna, an Après Ski Bar and gourmet restaurant with exceptional service, so you just have to relax and enjoy your holiday!
12 PORCUPINE ROAD PERISHER VALLEY NSW
Indoor Pool
Sauna
Restaurant
Bar
Billiard Room
Games Room
Lounge with Fireplace
Guest Laundry
Reading Lounge
Ski storage
Drying room
Transfers on arrival/departure between 7am – 8pm.
Located mountainside on the western rim of the Perisher Range the Inn enjoys panoramic views to Mt Kosciuszko, Mt Twynam and Guthega Dam, the highest and original part of the Snowy Hydro-electric Scheme Guests can park in Guthega and be transferred over snow to the Inn which has has ten well appointed guest rooms and a ski in restaurant which opens to the public for lunch. Dining styles reflect the European heritage at Guthega and feature regional produce and wines.
 Meals include hot breakfast cooked to order and three course selections each evening. The Inn is on snow.
57 Mount Tate Road
Guthega NSW 2624
Over snow transfers on arrival and departure from Guthega car park to the Inn.
Rooms serviced daily
Optus & Telstra 3G internet and mobile.
Lounge with fireplace
Cafe/Restaurant
Sauna and Gym equipment
TV Lounge
Transit storage
Ski tuning service
Snow shoes, mountain bikes & fishing tackle.
Mid week hosted skiing morning.
Shoulder Season
26th June 2020 – 30th July 2020 inclusive
23rd August 2020 – 19th September 2020 inclusive
Mountain view – 2 Share
2 Nights – $642 (per person)
5 Nights – $1532 (per person)
7 Nights – $1827 (per person)
Snow view – 2 Share
2 Nights – $604 (per person)
5 Nights – $1357 (per person)
7 Nights – $1642 (per person)
Shoulder family:
5 night mid season family stay $3,450
(valid 26th June thru 30th July and 23rd August thru 19th September 2020 subject to availability)
Peak family:
5 night peak season family stay $4,166
(valid 31st July thru 22nd August 2020 subject to availability)
Matterhorn  Lodge is all about easy access to the slopes and providing fantastic facilities to make it the perfect base for your ski or snowboard holiday, just 200 meters to the lifts. Whether you're a family, group, couple or single, Matterhorn  Lodge has everything you need for your winter adventure and offers excellent on snow value.
Matterhorn Lodge features a cosy bar alongside a large guest lounge surrounding a log fire. Relax at the bar during Happy Hour and share tales of the day's adventures, make some new friends or catch up with old ones. For the kids and big kids alike, the games room offers arcade games, pool table, inhouse guest activities and entertainment. Ski or snowboard storage and a drying room are provided for your convenience. 
 11 Wheatley Rd, Perisher Valley NSW 2624
Licensed dining room
Cosy Bar with daily Happy Hour
Guest lounge with open fireplace
Games room with arcade games and pool tables
Ski storage
Drying room
Oversnow transfers on arrival and departure at specified times
Matterhorn Ski Lodge – Book Your 2020 Holiday With Up to 40% OFF 2019 Rates!
Valid for stays throughout the season (some blockout dates apply)
Includes daily: accommodation, breakfast & dinner
MAWABU SKI LODGE is situated in the heart of the ski fields at Perisher Valley. The lodge is 400 metres from lifts and close to cross country ski trails.
A hot breakfast and a three course dinner are prepared and served daily by our lodge managers.
Nine bedrooms each furnished with a king bed or two single bedsand each with ensuite facilities.
All bed linen and towels are provided.Two bedrooms are interconnecting and one room can accommodate up to three people.
8 Pipit Pl, Perisher Valley NSW 2624
Rooms start from:
| Guests | Daily Rate | Weekly Rate |
| --- | --- | --- |
| Adult | 164 | 987 |
| Youth (15-25) | 123 | 741 |
| Child | 82 | 494 |
LOUNGE
Our large lounge area on the main floor is where members and guests gather before dinner for drinks and nibbles.
GAMES ROOM
There is a separate games room on the ground floor with a pool table and a table tennis table. 
DRYING ROOM
A large drying room is situated on the ground floor. 
Muniong Ski Club is located at Smiggin Holes within the Perisher ski resort. 
Muniong Ski Club is situated in the snowfields at Smiggin Holes, within the Kosciuszko National Park, NSW, Australia. The club is dedicated to promoting snow sports for all ages.
Its distinct A-frame is the highest lodge on the hill so you can ski down and enjoy Smiggin Holes facilities or ski to the Link T-bar for access to Perisher Valley, Blue Cow and Guthega.
The Lodge sleeps up to 19 guests and has two live-in managers who provide cooked breakfasts and superb three course dinners. Lunch is also provided. The Lodge has a games room and two drying rooms.
 CORROBOREE RD SMIGGINS ,NSW
Rooms start from:
weekend at $280
Mid week $420
Week $500
Oldina Ski Club is a small club lodge catering for members and guests and is located with panoramic views overlooking the slopes at Perisher Valley.
It's a perfect place to enjoy your alpine break and avoid the hassles of a daily commute to the snow.
Your stay includes a 3 course evening meal and cooked breakfast.
 5 BILLY BUTTON PLACE, PERISHER VALLEY, NSW
Drying room, laundry facilities, ski storage room & workshop are provided.
open fire and a games room upstairs
BUDGET ACCOMMODATION
Our prices start from around $70 per night in the low season on a weekly booking for members and $115 for guests.
Salzburg Apartments Perisher
Salzburg Apartments in Perisher Valley provide the largest self contained apartments, comfortably accommodating large groups and families. With apartments of different sizes offering fantastic facilities, Salzburg Apartments are a great choice for every group.
 24 Porcupine Rd, Perisher Valley NSW 2624
Use of Marritz Hotel Facilities:
Restaurant and Bar
Sauna with relaxation room
Heated indoor pool
Lounge with open fireplace
Billiards room
Reading Lounge
1
Night
2
Nights
3
Nights
4
Nights
5
Nights
6
Nights
7
Nights
Extra
Night
2 Bedroom – Sleeps 4
Extra Adult
$1155
$158
$2032
$315
$2721
$473
$3629
$630
$4192
$788
$5031
$945
$5336
$1103
$763
$158
3 Bedroom – Sleeps 6
Extra Adult
$1712
$158
$3014
$315
$3876
$473
$5167
$630
$5920
$788
$7104
$945
$7535
$1103
$1076
$158
3 Bedroom – Sleeps 8
Extra Adult
$2273
$158
$4001
$315
$4868
$473
$6490
$630
$7435
$788
$8922
$945
$9468
$1103
$1352
$158
4 Bedroom – Sleeps 10
Extra Adult
$2825
$158
$4972
$315
$5756
$473
$7674
$630
$8794
$788
$10551
$945
$11191
$1103
$1599
$158
5 NIGHTS IN A TWO BEDROOM APARTMENT
OVERSNOW TRANSFERS ON ARRIVAL AND DEPARTURE AND TO/FROM LIFTS
$780 per person
Available from Ski travel company 02 9810 1000
You can't beat Smiggins Hotel & Apartments for true Ski in – Ski out enjoyment and easy access to all of the Perisher Resort. With ski lifts at your doorstep, just snap on your skis or board and go! Add warm, comfortable rooms, an awesome KIDS CLUB and a great range of dining and entertainment options and you have the essentials for a fantastic snow holiday!
Kosciuszko Road
Smiggins Holes, Perisher
NSW 2627
Guest lounge & cocktail bar
Smig's bar & grill
A-la-carte restaurant
Log fireplaces
Ski, board & boot lockers
Guest laundry
Sauna
Qualified Massage Therapist
Kid's club all season
 
Twin / Dbl
Extra Adult
Child**
Standard Room
1630
1365
940
Mountain View
1715
1435
990
Family Suites†
1950
1620

1120

 
Weekends
Twin / Dbl
Extra Adult
Child**
Standard Room
652
546
376
Mountain View
686
574
396
Family Suites†
780
648
448
Smiggins Hotel Bonus Weeks – Kids 50% OFF
Valid: 28 Jun – 4 July / 30 Aug – 5 Sep 2020
Kids 50% OFF (in Hotel Rooms and Self Contained Apartments) including Dinner, Bed & Breakfast when sharing with 2 paying adults on Dinner, Bed & Breakfast package. 5 Night Adult price starts from $1560ea and kids from $480ea.
Available for 2, 5, or 7 night bookings.
5 nights or 7 nights arriving Sunday / 2 nights arriving Friday
All specials are subject to availability and cannot be booked in conjunction with any other special
BOOKINGS & ENQUIRIES call 1800 008 838 or
---
click Enquire Now to contact us
---
Kids 30-50% Off Deals!
Kids Stay Free Deals!
Value Season Up To 35% Off
Sponars Chalet is a historic owner-operated hotel located just 8km from Perisher. With free parking and a courtesy shuttle to Smiggins and Perisher, Sponars Chalet offers amazing value for money and great facilities.
Each cosy room at Sponars Chalet features a private ensuite and tea/coffee making facilities. Various views greet guests out the room windows to give you that true alpine experience. Your tariff includes breakfast and dinner with an ever-changing menu and full use of the hotel's facilities.
Meal Inclusions
DINNER: A 3 course a la carte dinner is served in the Dining Room at either 6pm or 7pm. Child rates include a 3 course dinner from the childrens menu
BREAKFAST: A buffet breakfast is included each morning, available 7am – 8.45am
Kosciuszko National Park, Kosciuszko Rd, Perisher Valley NSW 2627
Cosy lounge
Log fires
Bar
Games room with pool table, table tennis and darts
Indoor heated pool
Steam room
Gym
TV room with pay TV and movies plus Wii console
Regular live music
Luggage storage and shower facilities on the day of arrival and departure
Free on-site parking
From $410 per night for 2
Stay 9 nights and pay for only 7 nights during June, July, August 2020.
That is 2 FREE nights ! No block out periods.
Minimum 7 night stay. Subject to availability. Max. 2 free nights per stay.  Can't be combined with any other offers.
Offer expires February 28th 2020
BOOK HERE or ring 64561111
Peer Gynt is a family friendly, ski-in/ski-out, owner-operated lodge situated just 50 metres from North Perisher T-Bar. You can be assured of personal attention and service from your hosts Jenny and Bart Klekar. Peer Gynt is a warm friendly lodge right on the snow at Perisher with glorious mountain views.
DINNER: Adults- a 3 course set menu dinner is served each night at 6.30pm. Menu changes daily. Child & Infant rates include a 2-3 course dinner from the kids menu. The kids menu is a smaller serve and a simplified or alternative version of the adults menu. Adult rates apply if child wants adult meals, advise at the time of booking.
BREAKFAST: A buffet breakfast is available daily 7.45-8.15am. Cereal is avaialble from 7.30am
154 PERISHER CREEK ROAD, PERISHER NORTH NEW SOUTH WALES 2630
Bar / Lounge
Non-Smoking Rooms
Fire Place
Library
Sauna / Steam Room
Guest Laundry
Drying Room
Non-Smoking Property
Games Room
On Site Restaurant
| | | | | | |
| --- | --- | --- | --- | --- | --- |
| 2 Share Room | 360 | 540 | 720 | 860 | 1080 |
If you're looking for quality on-snow accommodation in the heart of the action, The Perisher Manor is the perfect choice – affordable accommodation from Budget through to Family Rooms in a true ski-in, ski-out location right to the door step of the main lifts and runs.
KOSCIUSKO ROAD, 2624 PERISHER VALLEY, AUSTRALIA
24 hour reception
Mini bars (deluxe rooms)
Luggage storage room
Guest laundry
Drying room and ski locker room
Security storage facility
Showers and change rooms
Lobby Lounge with open fireplace
Guest TV Lounge
Nightly
 5 Nights
7 Nights
Budget Mountain Room (Max 2)
Double or Twin Beds
Adult per person
165
825
1155
 
 
 
 
Resort Village View Room (Max 5)
Queen Bed, Single Bed & Double Sofa
Rate for first 2 people per person
225
1125
1575
Resort Village View Room Child/Extra Adult
160
800
1120
 
 
 
 
Resort Slope View Room (Max 5)
Queen Bed, Single Bed & Double Sofa
Rate for first 2 people per person
250
1250
1750
 2020 Family Package Kids Stay Free – 5 & 7 Night Stays.
$325 per child – 5 nights / $455 per child – 7 nights. (rate is for meals only*)
Valid Dates 5 nights: 14-19 Jun, 21-26 Jun, 13-18 Sep, 20-25 Sep, 2020. Valid Dates 7 nights: 14-21 Jun, 2-28 Jun, 8-15 Sep, 13-20 Sep, 2020. Inclusions:
5 or 7 nights accommodation (Sun-Thurs incl. or Sun-Sat incl.)
5 or 7 full buffet breakfasts / 5 or 7 gourmet dinners (adults)
Kids Stay Free* (child rate is for meals from children's menu only)
Kids Club* (6-9 pm Mon-Thurs. evenings inclusive. Min 10 children to operate school holidays only)
Renowned for its ski-in, ski-out location, this fun, family friendly hotel is located in the heart of Perisher Valley. Only 100 metres from the Village 8 Express, the hotel has extensive views over the resort, with easy access to all resort facilities including Perisher's Snowsports School, Snowsports Hire, retail outlets, bars and coffee shops.A true ski in and ski out.
KOSCIUSKO ROAD PERISHER VALLEY NSW 2624
Games Room
Sauna/Steam Room
Interconnecting Rooms
WiFi Internet
On Site Restaurant
Guest Laundry
Non-Smoking Property
Bar/Lounge
From: Twin share $426 includes meals, start of ski season.
Established over 2 decades ago with a reputation for genuine and friendly guest service, Ski Rider is a uniquely positioned 95 room hotel, only 11km's to Perisher Ski Resort.The Ski Rider experience is about looking after your snow holiday essentials so that you can concentrate on skiing and snowboarding
KOSCIUSKZO ROAD WILSONS VALLEY PERISHER VALLEY
 
2 NIGHTS
3 NIGHTS
4 NIGHTS
5 NIGHTS
6 NIGHTS
7 NIGHTS
Low Season 19 – 27 Jun | 6 – 24 Sep
2 Share – Per Person
$320
$480
$640
$695
$855
$1015
Extra Adult – Per Person
$126
$189
$252
$315
$378
$441
Extra Child (4-14 yrs) – Per Person
$86
$129
$172
$215
$258
$301
Valid: 19 Jun – 27 Jun 30 Aug – 24 Sep 2020
FREE Adults & Kids – 2 people pay the 2 share rate for accommodation and meals and everyone else in the room pay for meals only, max 6 guests in beds per room.
Subject to availability and cannot be used in conjunction with any other special on offer.
Please call 1800 020 622 or email a consultant for more information.
Ski Rider Motel Deal 50% OFF Peak Season Deal
5 Nights from $570* per person
Available for Sunday arrivals between 19 July and 29 August 2020. Must book by 31 May 2020.
First 2 adults pay 2 share rate, extra adults/children receive 50% OFF regular rate!
Package includes:
Plus everyone receives 50% OFF Ski/Board/Clothing Hire.
Quote package code:SRPSD when enquiring about this package.
*From price based on 6 adults in a 6 share room. Cannot be used in conjunction with any other offer or discount.
Further booking conditions and terms may apply – 6 & 7 night durations also available
Please call 1800 020 622 or email a consultant for more information.
2 Restaurants
2 Bars with FREE entertainment such as live music, trivia nights, magicians/illusionists and theme nights
Open fire
Games room
T.V lounge
Luggage storage
Change rooms with showers.
Daily free Shuttle Bus to/from Perisher up to 8 times a day
Guest laundry with ironing facilities
Ski & board hire
Pool table and arcade games
Gift & Accessories shop
Located at Smiggin Holes part of the Perisher Valley Ski Resort, enjoy the warmth and hospitality of Snowy Gums Chalet, admire the snow views, stay with us and take advantage of our excellent location and facilities. We offer the perfect on snow experience for everyone – families, groups, couples, skiers and non skiers.
PLUM PINE RD, PERISHER, NSW
Open Fire place
Communal Guest Lounge
Laundry
Pool Table
Games and TV room
Guest Laundry and drying room
Non Smoking
WiFi
Communal Coffee and Tea Facilities
Per Night

Super Saver Season – June 22 to July 2 & September 14 to October 4 2020
Kids Stay Free Special included in Family Packages

2 Share
460
3 Share
590
4 Share
730
5 Share
820
6 Share
950
Extra Adult
210
2020 Return Guest Special
15% DISCOUNT for all return guests if confirmed before 31st March 2020
Not valid with any other specials or offers. Deposit MUST be paid by 31st March 2020.
Book On-line or Contact Snowy Gums for more information.
---
Kids stay FREE
For every full paying adult, 1 child stays FREE
June 7 to July 4 & September 9 to October 1 – Rates are built into Family Room Rates
Min. 2 full paying adults = 2 children STAY FREE
Terms and conditions apply.
$50.00 per day
Located centrally in Perisher ,Sundeck is a ski in and ski out hotel with panoramic views of Front Valley.Excellent value  location. On snow accommodation with licensed bar and restaurant.
Excellent value true Ski-in / Ski-out location. On snow accommodation.
 KOSCIUSZKO RD, PERISHER VALLEY NSW 2624
Nightly
5 Nights
7 Nights
June (June 5 – June 27)
$200
$950
$1200
July / August (June 28 – August 29)
$295
$1300
$1770
September (August 30 – close)
$225
$1050
$1350
Stay 5 Pay 4 Special
Triple and quad rooms are on special for certain weeks of the season.
Check out the availability for the times of the season you can book.
Be quick – won't last long!
Perisher are also offering five days of lifts for the price of 4.
The Swagman Chalet is a traditional Swiss style lodge offering warm and friendly hospitality for families, couples, singles or groups wishing to experience on-snow accommodation in the Kosciusko National Park, conveniently located in Perisher Valley, just 400 metres from the Perisher Ski Tube Terminal and 500 metres from the Front Valley ski lifts.
62 PORCUPINE ROAD PERISHER VALLEY NSW
Licensed Restaurant
Bar & Lounge with Open Fire
Games Lounge with Pool Table, XBox 360, DVDs, Satellite TV, Boardgames, Books and Magazines
Secure Ski/Board Storage Room
Drying Room
Luggage Storage Room – where your luggage can be stored upon arrival and departure if outside normal check-in/out times
Complimentary Over-snow Transport to and from ski lifts daily, and upon arrival and departure from Perisher Ski Tube Terminal
Complimentary Use of Toboggans
Safe snow play area around the Chalet
Value
Mid Season
Peak
 
7 – 27 June
28 June – 6 July
7 Jul – 20 Jul
 
16 Sept – 6 Oct
21 July – 15 Sept
 

DAILY

 
 
 
2 share
$183 per adult
$279 per adult
$313 per adult
 
$146 per child
$215 per child
$243 per child
3-4 share
$150 per adult
$241 per adult
$282 per adult
 
$121 per child
$192 per child
$218 per child
5 Share
$143 per adult
$227 per adult
$252 per adult
 
$105 per child
$166 per child
$179 per child
6-7 Share
$133 per adult
$199 per adult
$218 per adult
 
$95 per child
$143 per child
$158 per child
Tambaroora Ski Club Lodge is self-contained and sleeps a maximum of 6 people. It is on-snow accommodation, located in the heart of Perisher Valley, providing lodgers with a short ski to Centre Valley facilities
The Coachman Ski Lodge is the perfect location for your snow experience in Perisher Smiggin Holes. Being closely located to the snow is a completely different experience than your drive and park option. The Coachman provides a warm, friendly, family based atmosphere, for you, your family and friends to enjoy.
he Coachman can offer a limited number of overnight parking spots right outside the lodge. Parking must be booked in advance, and available at $30 per day ($25 for members). Bookings are essential.
5 PIPERS PL, SMIGGIN HOLES NSW 2624
log fireplace in open living area,
a guest lounge,
separate tv room for adults and kids,
pool table,
table tennis table,
drying room,
ski room,
sauna 
laundry
Rates start from $140 per week day $290 peak season
The Lions Lair Lodge is a warm and cosy little Bed and Breakfast style facility conveniently located approx 150 metres from the lifts across a car park and shuttle bus stop. The property had a major renovation in 2005, and then again in 2013 and substantial improves each year.L
Located approx 150 metres from Smiggins  lifts,  car park and shuttle bus stop.
Rates include breakfast.
10 PIPERS LANE PERISHER VALLEY NSW
Lounge to relax in with a Pool table
Drying and Waxing rooms and secure ski and snowboard storage.
 
Twin Room $220 per night for 2,peak $260
The Man from Snowy River Hotel
The Man from Snowy River is Perisher's largest hotel, located in a great location, in the heart of Perisher Resort, just a few hundred meters to the Village 8 Chairlift. We have the only undercover onsite parking in Perisher Valley. At the Man from Snowy River Hotel, all your Perisher accommodation needs are met.
 KOSCIUSZKO ROAD, PERISHER VALLEY NSW 2624
Two bars with open fires
Fully supervised children's dining area
Kids Club 5pm-9pm (except opening & closing season)
Teenagers lounge with ping-pong table and foosball
Guest TV lounge
Dining room serving fully cooked buffet breakfast and 3 course table'd hote dinner
Ski and drying room
Steam room
In house beauty salon
Guest laundry
Undercover parking
Wifi free of charge in lobby and lounge area
Mountain View Room*
Twin/King Only
Standard Room*
Twin/King, Triple, Quad, Five Share
Single Rate
$345
$295
Twin Share
$185
$160
Extra Adult
n/a
$75
Child 5-14 yrs**
n/a
$25
Infant 0-4 yrs**
n/a
Free
2020 JUNE – OPENING SPECIALS
8 – 25 JUNE 2020
BED & BREAKFAST
40% OFF OUR REGULAR RATES
IF YOU BOOK DIRECT WITH US!
Offer expires 31/03/2020. Offer is SUBJECT TO AVAILABILITY. *NOT VALID WITH ANY OTHER OFFERS.
BOOK ONLINE HERE – using Redeem Discount Code: JUNE SPECIAL on payment page.
---
The Man from Snowy River Hotel, Perisher
Save 20%!
Don't miss out on 20% OFF!
Offer expires 31/1/20 unless sold out prior.

Stay in comfort and enjoy the convenience of the only accommodation in Perisher Valley with on-site parking
Valhalla has the warmth, character and friendly ambiance you would expect of ski lodge style accommodation. With an excellent long standing reputation, it continues to receive consistent glowing customer reviews across all platforms.
31 CANDLE HEATH ROAD, PERISHER VALLEY,SNOWY MOUNTAINS NSW
Central heating
Fireplace
Drying Room
Ski, Board and Boot Room
Lounge Room
Separate television and video room
Dining Room
24 hour Tea and Coffee Station
DVDs, board games, wii games and books
400m to the lifts
From $200 per night includes
Arrival and departure oversnow transfers 
Hot breakfasts cooked to order plus cereal bar 
3 course set dinners or optional early kids dinner
Après ski cheese platter 
After ski transfer between 3:30pm – 5:30pm daily 
Wifi access
Self serve fresh fruit, selection of teas/coffee/hot chocolate/milo/water
BEST DEALS: 
Low Season: June & September
Peak Season: 19July – 24 July
26 July – 31 August
18 August – 23 August
25 August – 30 August
Perisher Accommodation Map
Perisher winter accommodation offers a variety of options to choose from.From budget ski club accommodation ,to ski lodges (medium to high end accommodation),Hotels offering medium to luxury accommodation and apartments with a mix of configurations from budget  through to luxury.The luxury end you'll find 24 hour room service with great facilities like sauna and pool after a hard day of skiing or snow boarding.Budget apartments are normaly studio type suitable for 2 or 4 people.Apartment range from 1,2,3,and 4 bedrooms.
Perisher is at its peak during  winter,its advisable to prebook accommodation .Last minute accommodation can go  either way as far as pricing,it can be really cheap or flat out expensive.
General speaking Perisher  is a ski in and ski our resort,with the home trail bring you back to your place of stay.To get to your accommodation you will need to use Hans  over snow transport or see if  the place you are staying at offers transfers from the car park to your place of stay.
Perisher has a lot of Kids ski free accommodation.
Perisher accommodation includes the following areas ,Perisher ,Guthega ,Smiggins Hole,South Perisher and Wilson Valley.It might also be worth considering charlottes Pass 10 klm away.